We have talked about the difference between demurrage, detention, and port storage in our last article. Today, we will be discussing key tips to avoid Demurrage and Detention charges.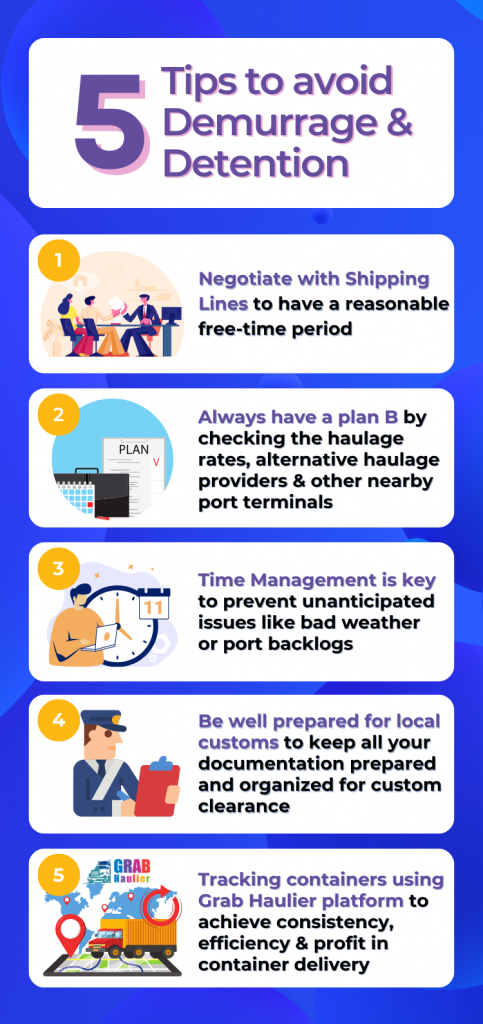 1. Negotiate with Shipping Lines 
It is recommended for freight forwarders negotiate the D&D charges with the shipping lines rather than accept the quotation provided. It is possible to negotiate ahead of time for a longer "free-time" period during the booking stage. Otherwise, once the vessel has departed, you're not allowed to extend or add on the "free time" period. Usually, they will allow a longer free-time period for shippers with a large volume of the container. Make sure whatever is negotiated is documented in the quotation.
2. Always have a plan B
Based on our extensive experience in the industry, you must always have a Plan B available for all kinds of scenarios. For example, it is very common that you will be dealing with a congested port. In this case, you shall plan for alternatives before it happens. Some proposed alternatives could be to check the truck rates, alternative truck providers, and other nearby port terminals. This information comes in handy if you are stuck in a tight schedule and you want to make the delivery smooth and seamless within budget.
3. Time Management is key
It is best to dispatch the container as soon as possible so that the Haulier company has enough time to fit the consignment into their schedule. Besides, it gives you greater flexibility and a longer time frame to deal with unanticipated issues like bad weather or port backlogs.
4. Be well prepared for local customs
It is always recommended to keep all your documentation prepared and organized for custom clearance. Every country has its own customs rules, regulations, and timeline. Thus, you must ensure the information on all the paperwork is accurate. The basic documentation such as invoice, bill of lading, and certificate of origin must be complete and accurate. We know how troublesome inaccurate information can cause the shipment delay and the hassle you must go through the custom stage. Thus, do it right one time and save all the hassle.
5. Tracking containers using visualization platforms
Whether you are an ocean freight forwarder, you should ride on the technology trend. Grab Haulier has provided a comprehensive visualization platform to help you keep track of your containers to achieve consistency, efficiency, and profit in container delivery. The visibility enables you to be ready for all kinds of scenarios.
---
Grab Haulier is a well-known Haulier in Port Klang, do reach out to us to know more about this topic. Else, stay tuned for our next article. Please follow us on Facebook and Grab Haulier website, like us and share with your friends.